The Power of One!
You can make a difference!
#Bikes4ERP: Promoting Education in Rural South Africa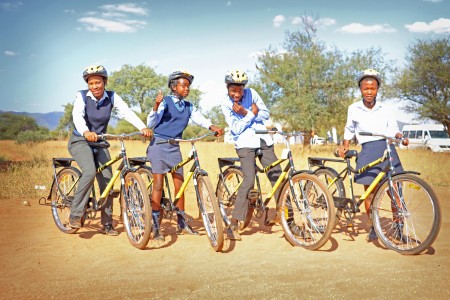 This is a good news story of South Africa and bicycles… where dreams of a better education exist but the odds against you are enormous. Imagine living in a community where you have to get up every morning and walk to school for more than an hour. After a tiring day you have to walk another hour home in the heat of the afternoon sun. When arriving home you have to walk another half an hour to fetch water because you do not have running water where you live. After doing some homework you have to start collecting fire wood to cook food…This scenario exists in deep rural South Africa where children have dreams….dreams of a better education. These kids have one big obstacle, they have to walk more than 2 hours to school and back….everyday… leading to frequent absenteeism, exhaustion and often a complete withdrawal from school.
The #Bikes4ERP project distributes bicycles to students, teachers and school volunteers with the main aim to increase access to education. Students earn bicycles by entering into a "STUDY TO OWN" contract. If they use the bicycle to get to school for 2 years, then it becomes theirs. In the short term bicycles reduce children's exhaustion from walking to school and lead to increased school attendance. In the long run bicycles will help students to complete their education, preparing them for better jobs and thus reducing the likelihood of extreme poverty.
The late president Nelson Mandela said that access to quality education is essential to ending the cycle of disease and poverty in Africa. The extent of the problem: Only 40% of South African students achieve a qualification higher than Grade 9, and half of children who enrol in Grade 1 will never pass Grade 12. With a bicycle, children can travel four times faster to school. They can cycle to water points to collect water and concentrate on their studies. They can complete their education, preparing them for better jobs and thus reducing the likelihood of extreme poverty.
Become part of this initiative by making a donation
From a child's point of view: "Mobilize me and I will change my world".
Target Amount for this Campaign R250,000
Total Amount Donated R3,118
Percentage of Target 1.247204%
Feeding Orphans and Vulnerable Children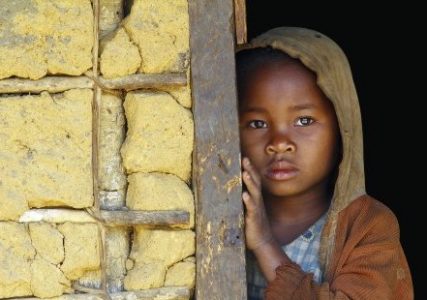 According to the World Health Organisation, 1 in 9 people in the world go hungry. An estimated over 2 million children in South Africa do not get enough food to sustain adequate growth and development. When confronted with statistics of such epic proportion, it is difficult to imagine how one can even begin to make a difference. The answer is simply, one child at a time!
The plight of orphans and vulnerable children in remote villages throughout South Africa, and particularly in Kwa-Zulu Natal (KZN) is appalling. Child headed households are surviving without adequate shelter and without adequate food. Your donation will go directly towards feeding poverty stricken, vulnerable children in rural communities. Aside from the stunting of physical growth which results from a lack of food, children cannot be expected to learn in school if their stomachs are empty.
Target Amount for this Campaign R100,000
Total Amount Donated R770
Percentage of Target 0.77%
Binoculars for ERP Rangers

ERP has been at the forefront of helping rhino conservation efforts in South Africa and at present, the rangers need our support more than ever. Teams of dedicated rangers are monitoring around-the-clock to protect our magnificent rhinos from criminal syndicates. With the increasing poaching threat, funding for ranger equipment is urgently needed to recruit more rangers and expand patrol coverage in the Reserves where the rhinos are protected.
Please give generously and leave a message of support for the rangers who are dedicating their lives to protect these rhinos
Be the first person to donate to this cause!
Target Amount for this Campaign R15,000
Sponsor Human-Elephant Conflict Resolution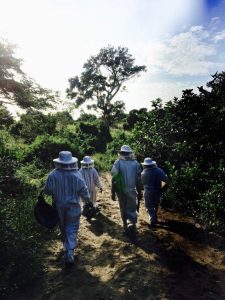 In keeping with ERP's mission to conserve Elephants and Rhinos, in the wild, through the alleviation of Poverty, we present the following opportunity for you to join us in this mission. Bee hive fencing not only prevents Elephants from invading farm lands and private property,but at the same time provides local communities with a soundeconomic opportunity through the production of honey. By sponsoring one or more hives, you can help us to promote this solution to human elephant conflict resolution throughout Africa.
HOW CAN YOU HELP?
See the following options, below:
• Sponsor ONE HIVE:
cost per hive $141 (R2,000)
• Sponsor ONE BENEFICIARY with 20 HIVES:
Cost of twenty hives $1410 (R20 000)
• ULTIMATE TARGET: to provide 8KM of beehive fencing with 200 HIVES:
• Total cost: $28 200(R400 000)
Contributions of any amount towards the sponsorship of the above targets is welcomed
Be the first person to donate to this cause!
Target Amount for this Campaign R400,000