#Bikes4ERP: Promoting Education in Rural South Africa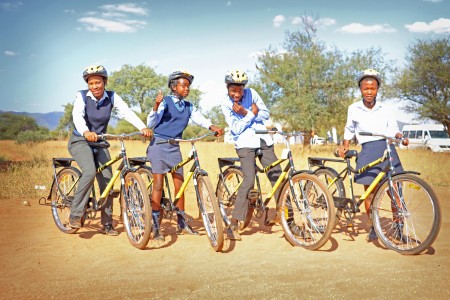 This is a good news story of South Africa and bicycles… where dreams of a better education exist but the odds against you are enormous. Imagine living in a community where you have to get up every morning and walk to school for more than an hour. After a tiring day you have to walk another hour home in the heat of the afternoon sun. When arriving home you have to walk another half an hour to fetch water because you do not have running water where you live. After doing some homework you have to start collecting fire wood to cook food…This scenario exists in deep rural South Africa where children have dreams….dreams of a better education. These kids have one big obstacle, they have to walk more than 2 hours to school and back….everyday… leading to frequent absenteeism, exhaustion and often a complete withdrawal from school.
The #Bikes4ERP project distributes bicycles to students, teachers and school volunteers with the main aim to increase access to education. Students earn bicycles by entering into a "STUDY TO OWN" contract. If they use the bicycle to get to school for 2 years, then it becomes theirs. In the short term bicycles reduce children's exhaustion from walking to school and lead to increased school attendance. In the long run bicycles will help students to complete their education, preparing them for better jobs and thus reducing the likelihood of extreme poverty.
The late president Nelson Mandela said that access to quality education is essential to ending the cycle of disease and poverty in Africa. The extent of the problem: Only 40% of South African students achieve a qualification higher than Grade 9, and half of children who enrol in Grade 1 will never pass Grade 12. With a bicycle, children can travel four times faster to school. They can cycle to water points to collect water and concentrate on their studies. They can complete their education, preparing them for better jobs and thus reducing the likelihood of extreme poverty.
Become part of this initiative by making a donation
From a child's point of view: "Mobilize me and I will change my world".
Our next Delivery will be in January 2022. This delivery will be in remembrance and honor of one of the founding members of this project, our friend and colleague, Gert Vermeulen, who tragically lost his life on 16 October 2021.
In order to make a donation via an Electronic Funds Transfer (EFT), contact us at info@peacefoundation.org.za
Target amount for this campaign: R250,000 | Total amount donated: R3,118 | Percentage of target: 1.247204%