Agriculture
Transforming subsistence farming into commercially sustainable cooperatives and industrializing the agricultural sector
"Poverty is not only widespread in rural areas, but most poverty is rural"
– Ashley and Maxwell (2001)
The P.E.A.C.E. Agricultural Model
The P.E.A.C.E Foundation recognizes that agriculture should be a key element in improving the economies of rural areas, providing improved nutrition and employment. Over the years, P.E.A.C.E. Foundation has developed a model that supports agricultural development. This model is designed to increase capacity, promote an entrepreneurial approach to farming and agribusiness and empower rural communities, especially households headed by women- transforming subsistence farming into commercially viable opportunities. This is achieved through developing and supporting both primary and second-tier cooperatives. The latter provides the necessary support services such as financial support services, marketing, bulk buying and bulk distribution of products to primary cooperative members.
Transforming subsistence farming into commercially viable opportunities
 Agriculture is a key to revitalising the economies of rural regions, providing improved nutrition for local residents as well as the opportunity to improve economic conditions. The P.E.A.C.E. Foundation works collaboratively with a number of consultants and organisations involved in the implementation of agriculturally-based projects. The universal trend is to industrialise the agricultural sector. Regional development centres or HUBS facilitate the evolution of commercial, business-like farming, characterised by an entrepreneurial approach and intensive, high production levels for both local and export markets.The Cooperative model is supported through these P.E.A.C.E. HUBS or Incubators (they are registered as second tier cooperative structures) .They provide centralised financial management, marketing, bulk buying and bulk distribution services to primary cooperatives.See below one of the successful examples of the P.E.A.C.E. Agricultural Model.
Sicabazini Agricultural Cooperative
The Sicabazini Agricultural Project was initiated in 2009 in the Sicabazini area under the uMhlabuyalingana Municipality and funded by Toyota Tsusho Africa. It Consists 15 Hectares of arable land, divided amongst 23 farmers for the cultivation of paprika and vegetables. The lands are irrigated using the Israeli  Drip Irrigation System.
---
Human-Elephant Conflict
Human/elephant conflict is an element of conservation which also needs urgent intervention to prevent the culling of incumbent elephants entering and destroying localy inhabited properties, adjacent to Reserves, in search of food and water, or simply intuitive exploration into migratory corridors from which they have been deprived. A  solution to this situation  is to provide a barrier of beehives, along invasive territory, which deter elephants from these spaces, while at the same time providing a sustainable income for local inhabitants from the production of honey. Currently, we have successfully deployed the beehive fencing project in Dinokeng Game Reserve (Gauteng) and Gazini (KwaZulu Natal Province), where a total of over 20 beneficiaries are not only assisting in conserving elephants by deterring them with their beehives, but are also earning an income through the selling of pure raw honey, which we also use as corporate gifts, thereby providing a ready market for their honey production enterprises.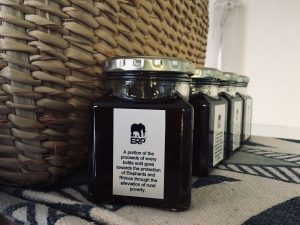 Above: ERP branded honey bottles