2018 Blouberg Thuma Mina Clean Up Campaign
Introduction
The Blouberg Thuma Mina Cleaning Day was one of the three events lined up for 2018 Heritage/Tourism Month (September) in the Blouberg-Makgabeng-Senwabarwana (BMS) area. The other two events are: 2018 Heritage/Tourism Launch (7 September) and Cultural Festival (27 September). These events for 2018 were led by a partnership of three stakeholders: Blouberg Municipality, P.E.A.C.E Foundation, and Ragibang Development Forum (other stakeholders were roped in). The events focused on the preservation of HERITAGE that would lead to TOURISM development, which all necessitate the conservation of the ENVIRONMENT by keeping it clean, green and hygienic. The Blouberg Thuma Mina Cleaning Day took place on Thursday, 6 September 2018. Although the main event was centred in the town of Senwabarwana, councillors and ward committee members were requested to lead separate activities in their respective areas throughout Blouberg.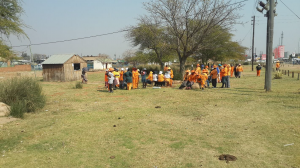 The participants converged at the Senwabarwana wetland. The wetland is unfortunately in a very bad state as it is neglected – people and animals trample over it as it is not fenced off. People even use the wetland as a public toilet!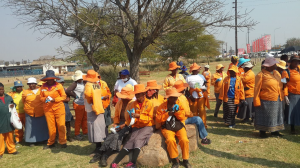 Keynoting
On behalf of Blouberg Municipality Mayor, Chairperson of Heritage/Tourism/ Environment issues, Councilor Ntlatla, keynoted the Thuma Mina Cleaning Day at the Senwabarwana wetland/park. Cllr Ntlatla emphasised the importance of Heritage preservation, Tourism development and Environment conservation. He called on the Blouberg officials in this sector to immediately fence off the wetland which is seriously under threat.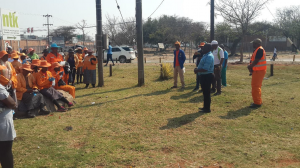 Breaking into groups
Participants were divided into four groups which were deployed in four selected spots in the town of Senwabarwana where filthy garbage had been accumulating.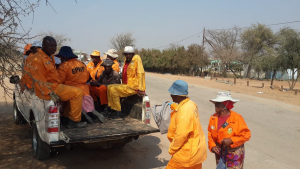 First Group
The first group started to clean right there at the wetland/park. Because the wetland is not fenced off, it is also subjected to all sorts of things like parking and washing of vehicles.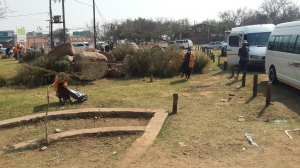 Second Group
The second group was deployed along the Senwabarwana-Mogwadi road on the end of the Extension Village. This area was full of garbage as people were illegally dumping garbage.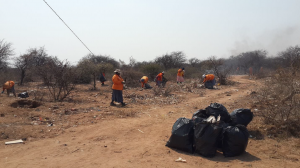 Third Group
The third group was deployed on the western side of the Senwabarwana Mall. The filthy garbage of plastic and papers are flying all over this piece of area hanging on mešu trees and shrubs – and the rubbish is generated by the businesses in the mall.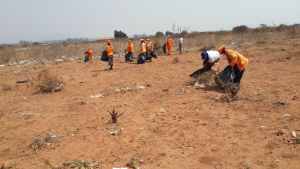 Forth Group
The final group was deployed around the Desmond Park village where filth is so rife among that residential area. It is very critical that this residential area should be prioritised because it is a ticking health time bomb of dangerous garbage if it is left unchecked.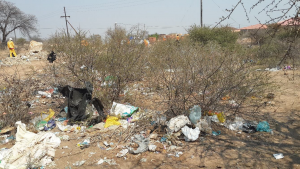 Concluding the day
The end of the Blouberg Thuma Mina Cleaning Day was a happy one as the participants felt so good for the historical contribution they have made. Participants converged at the Blouberg Municipality boardroom where they enjoyed lunch which was provided with courtesy of P.E.A.C.E Foundation.