Building thriving communities through partnerships
The P.E.A.C.E. Foundation, through ERP has made available Epap meal portions during the Covid-19 lockdown to distribute to families in need of basic food. The food delivery is being done by the Waterberg Welfare Society in the small town of Vaalwater, Waterberg District of Limpopo. So far, a total of 60, 500kg ePap were delivered for breakfast and 175 prepared lunch meals were provided to the community around Vaalwater.
Further to this, food parcels were delivered through a partnership with Lapalala Wilderness School to the three villages adjacent to the Lapalala reserve. 844 households have thus far received these food parcels in recent days.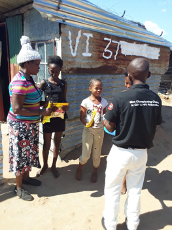 This food distribution is a joint effort in collaboration with the following partners:
Lapalala Wilderness School
ERP
Department of Social Development
HCI Foundation
We will be providing more updates in the next coming days, as the food parcels continue to be distributed.