International World Rhino Day School Speaking Competition
INTRODUCTION
For World Rhino Day, Letticia and her team from Waterberg Welfare Society, an ERP funded and supported centre, organised and attended an anti-poaching public speaking event held at Lapalala Wilderness School. The participants debated on the social, political and economic impacts of rhino poaching in South Africa, with prizes being handed out to the most outstanding public debaters on the day. Follow up activities that included tasking students to design rhinos using recoverable waste materials were also organised. 
PROCEEDINGS
The competition attracted 40 children for 21 Schools, and each had between three to five minutes to speak on the following topic: What are the social, political and economic impacts of rhino poaching in South Africa? Develop an argument and present possible solutions to the impacts and challenges.  Each speaker was assessed by a panel of four judges (Letticia Mahlatji from Waterberg Biosphere Reserve, Jessica Babich from Save the Waterberg Rhino, Ndifelani Mulaudzi from Endangered Wildlife Trust and John Hanks from LWS), based on ten judging criteria.
Considering the age of the competitors, the standard was remarkably high. It was most encouraging to hear the passion and enthusiasm of the speakers for a what is a complex subject embracing issues of community involvement, economic importance of tourism and other values of rhinos, law enforcement (and the efficacy of sentences for poaching), biodiversity conservation, and the general lack of a political commitment to address rhino poaching.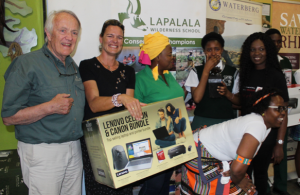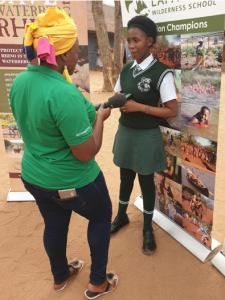 The prizes were of a very high standard and were generously sponsored by My Planet Rhino Fund (Administered by the Endangered Wildlife Trust), the Waterberg Biosphere Reserve, Save the Waterberg Rhino and Tintswalo Lodge Lapalala. This was an exceptional event, conducted by MC Johannes Monyeki from LWS in a spirit that stimulated genuine competition, but at the same time encouraged new levels of networking, interest and discussion in a wide range of community schools on rhino poaching in South Africa, and on options for introducing mitigation strategies to reduce the threat to rhinos.