Update on ICT interventions at the Vaalwater Centre
Introduction
The ERP funded and managed Vaalwater ICT centre, through sterling work from Zachariah Sekhu, has kickstarted the year with various community related interventions ranging from ICT to Coding. Though challenges were realised overall owing to the Covid 19 induced lockdowns over the past months, the centre continues to be innovative in how they provide their services to the Vaalwater community and beyond. In recent weeks, the Centre introduced a basic computer training course to 20 Vaalwater youth, who recently matriculated in 2020 and are still waiting for their results.
The Challenges
A preliminary meeting was held with these youth prior to them starting the classes, and the following came out strongly from the meeting:
Due to the Covid 19 induced lockdowns during 2020, the students were heavily impacted on their curriculum progress, which is now leading to anxiety amongst them all as they await their results.
A majority of the students have already applied for admission at various higher learning institutions, but they are uncertain whether they will be accepted to study or not.
Though a sizeable number also managed to apply for the NFSAS funding, there is a huge sense of worry as to whether their applications for funding will even be considered, potentially hampering prospects to further their studies
With unemployment on the rise in South Africa, particularly now with the Covid 19 pandemic, these youth have serious concerns about their future and whether or not they will be able to secure employment in such an uncertain economic environment.
Furthermore, the majority of the participants are young women, who fall within the vulnerable group in Vaalwater. They indicated one of their biggest frustrations as being that of a high expectation of them from their families, though in some instances, they received very little support during their studies. Most of the female students indicated that the Vaalwater Centre provided them with hope, as they could then have options of taking up new skills within the ICT sector.
A solution- Bringing hope
Based on the preliminary meeting, the Vaalwater ICT centre crafted specific programmes around the 20 youth's current needs, as a way of providing them with hope and easing their current frustrations. The informal pre-assessment exercise confirmed that all of them had not been exposed to basic computer literacy, even though they were expected to apply online and use computer and online services to access higher education institutions. It was also realised that some from within this group showed interest and potential within the media and communications sector, and as such, they were introduced to Waterberg Wave Community Radio Station for basic induction. The end result of these solutions was the introduction of a very basic computer literacy programme for all of them with an intention of introducing them to a full qualification course, potentially a National Certificate_ End User Computing NQF Level 3 and Coding!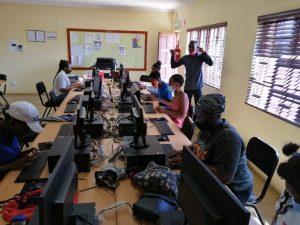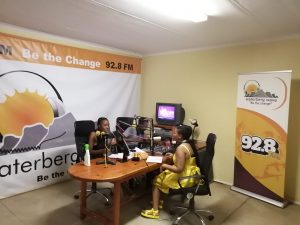 Business Opportunities Realised from existing challenges
To complete the intervention, it became imperative to also ensure the provision of  alternative career paths for these youth, given their current anxiety and uncertainty about their future employment prospects.  This led to them considering registering a Co-operatively run a small business entity which could create a revenue stream for them, whilst also enabling them to grasp business skills where they could start generating income and also learning some business skills.  There is an urgent need to explore and execute this solution, not only for the benefit of this group of 20, but to the wider Waterberg community as well.