Updates from our projects during the month of July 2021
"Like slavery and apartheid, poverty is not natural. It is man-made and it can be overcome and eradicated by the action of human beings." In light of Nelson Mandela's legacy and beliefs,  we continue to feed and support orphans and the vulnerable at Ndumo and Madikwe. This became our main theme for the month of July, and this was reflected in our newsletter as well.
FEEDING OF ORPHANS AND VULNERABLE CHILDREN
The plight of orphans and vulnerable children (OVCs) in remote villages throughout South Africa is appalling. Child headed households are surviving without adequate shelter and without adequate food. In keeping with the spirit of Mandela month, ERP continues to feed orphans and vulnerable children in Madikwe and Ndumo on a monthly basis. At present, we reach out to over 500 orphans in these 2 provinces. Without our intervention, most of them would be left out without food and no means to survive. Provision of food for these vulnerable groups is but part of a broader approach, as our sustainable interventions provide the necessary socio-economic tools and opportunities that facilitate poverty alleviation in an integrated and holistic manner.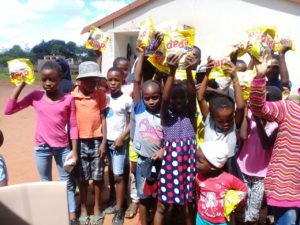 VAALWATER CENTRE UPDATES
The ERP funded and supported centre, through its outreach programmes, managed to distribute 60 food parcels to the most vulnerable within the Vaalwater Community. This was part of their Mandela Month interventions within the community. This further demonstrated that the centre as a community HUB not only provides essential educational and communication services, but also has a focus on the basic well-being of some of the most vulnerable and disadvantaged within Vaalwater.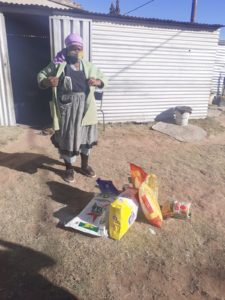 ERP HONEY TO SOON BE ON THE SHELVES IN RETAIL  OUTLETS
Earlier in the year, we reported that our partner, Portia Morudi had won 1st place in the Food Lovers Market Seeds of Change competition. We are happy to report that her ERP co-branded honey will soon be sold in various Food Lovers Market outlets, as this arrangement is now at an advanced stage. The honey is sourced from some of ERP's communities, and  a portion of the proceeds from every honey jar bought goes directly to benefiting the same communities. Be on the lookout for the honey in the next few weeks.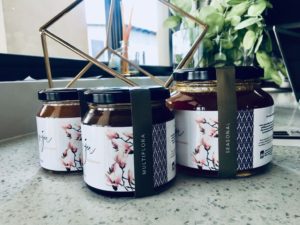 ERP CONCLUDES MADIKWE COMMUNITY SURVEYS
We are pleased to report that our team has concluded the community surveys conducted together with the Barokologadi Community Property Association. Using the tenets of Participative Rural Appraisal (PRA), our surveys focused on the youth, current socio-economic activities and potential opportunities among other aspects. The results from the survey exercise will guide our next steps as we implement various strategies aimed at addressing the status quo, which will see us providing this community with much needed tools and resources to improve their current socio-economic and environmental conditions.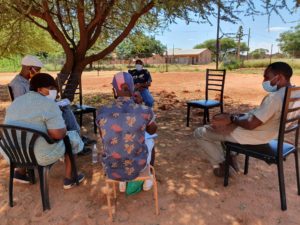 NTSHABELENG WASTE COOPERATIVE
The Cooperative continued with their daily waste collections and weekly sales. With great support from Lorraine Mabeba,  are also busy looking at the possibility of organic waste recycling which will also give a financial boost to the cooperative. Regarding the garden, the Cooperative will be looking into planting their summer crop, with winter fast coming to an end.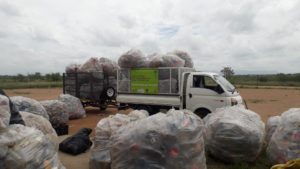 SEKELEKANI COOPERATIVE UPDATE
Owing to the disturbances that rocked KwaZulu Natal Province over the past few weeks, the Cooperative decided to place on hold plans to send off about 220kg of the remaining chilli crop to the market until the situation is calm. In the interim, they have started preparing land in order to transplant their new chilli crop seedlings, a process expected to be executed by end of August. With regards to their apiculture initiative, we are pleased to report that 54 hives have been fully populated, a positive when looking at the expected honey yield. Though some hives have been affected by ant infestation, the Cooperative are busy cleaning them in order to then attract bees to occupy the hives once again.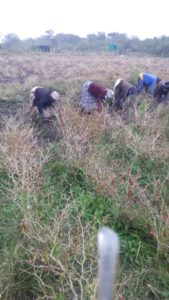 WATERBERG WAVES FM ACTIVITIES IN JULY
This month, the radio station focused on various themes and topics. They had a weekly 'Did you know' segment, which focused on fun facts about various species in the wild. In addition, they also looked at the importance of donkeys in supporting livelihoods. The daily ERP programme, Hlago Ya Africa, presented by Letticia Motshegoa focused on elephant and rhino wellbeing and various bathing techniques used by these pachyderms, whilst also celebrating important calendar days that included World Population Day and World Youth Skills Day, and how these days relate to South Africa and the current Covid-19 pandemic.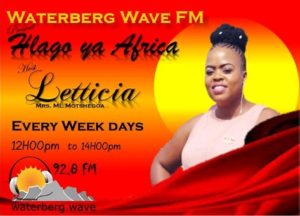 ERP AMBASSADOR PROGRAMME
We continue to express our gratitude to our Ambassador, Clement Maosa, for the continued support towards our various ERP programmes.